Isabella González S.
A few things to learn from watching Sex and The City
Con la llegada del nuevo spin-off de Sex and The City: And Just Like That es imposible no recordarnos de la serie tan emblemática que no solo significó una gran influencia en el mundo de la moda hasta la actualidad, sino que incluso hoy en día está ligada a la mujer independiente, elegante, divertida, abierta and of course, a fashion lover.
Así que para conmemorar esta nueva ventana hacia el mundo de Carrie Bradshaw, abramos el baúl de los recuerdos y emprendamos un viaje hacia los momentos, escenas y frases que nos hicieron reflexionar, relate y enamorarnos de esta historia.
And just like that, a list of a few things to learn from watching Sex and The City...
To always believe in love, and second chances.
Si hay alguien que cree en el amor verdadero y en el poder del perdón es Carrie. And maybe we should all take a page from her book once in a while, porque amar y perdonar capaz sean de los sentimientos más poderosos que hay.
Buy all the shoes you can.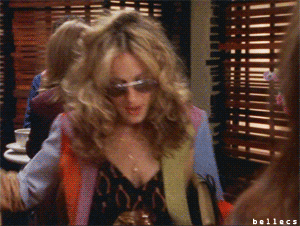 Carrie Bradshaw nos ensenñó que too many shoes is never enough. Por eso, si hay unos zapatos que tu corazón anhela, no lo pienses mucho y cómpralos porque un buen par de zapatos es difícil de encontrar dos veces. Eso sí, toma el ejemplo de Carrie y consérvalos con sus cajas en buen estado, por si cambias de opinión y los quieres vender.
Friends are the family you choose.
¿Cómo sería la vida sin amigas? La verdad es que muy aburrida. Y si escoges bien, esas amistades que llenan tu vida de risas y alegría, pueden llegar a convertirse en tu familia.
Don't be afraid to be an independent woman.
Ser mujer e independiente son características que siempre deben ir de la mano, por lo que si alguna vez te sientes como si hay algo que no puedes lograr, recuerda salir de tu zona de confort y no te quedes esperando por lo que quieres, go and get it.
I *HEART* New York.
La ciudad que nunca duerme… por supuesto estamos tan obsesionados con esta ciudad como Carrie. Hay algo en sus aires, su vibra y en sus calles que simplemente radia luz y emoción. Como la pasarela de Carrie Bradshaw y donde los sueños se cumplen. Así es exactamente como queremos recordar esta ciudad.
Te dejo esto por acá, so you feel what I'm feeling...